Ecosystem Services Tool
Learn how your farm or farmers market contributes to environmental and planetary health.
Farms do more than just feed us. Healthy agricultural ecosystems can foster
biodiversity
, build
soil health
, curb
climate change
, and conserve
natural resources
. With the Farm 2 Facts Ecosystem Services tool, you can illustrate your farm's or your market vendors'
positive environmental impacts through data collection
and customizable reporting.
Our mainstream food production system faces many threats, from climate change to natural resource degradation to pollinator collapse. Farmers, ranchers, and other producers are acutely feeling the impacts year after year: extreme flooding, droughts, heat, and cold — among others.
Luckily, changing the food system can reverse this course and lead our world to sustainability and a healthy, resilient planet. Producers across the world are already using alternative agricultural approaches that holistically build environmental sustainability and resilience.
We've collaborated with a wide range of producers and other agricultural experts across the country to build a brand new
Ecosystem Services tool
— designed to help you
track and communicate
your operation's
positive environmental impacts
. Moreover, Farm 2 Facts member markets will also now be able to aggregate responses to tell the story of their vendors' collective contributions to planetary health. As always, the Farm 2 Facts team is happy to help produce custom reports.
The Ecosystem Services tool translates data into
customizable marketing materials
that direct-market farmers can use to tell the story of how their practices are enhancing the natural environment while feeding our communities. Through a 15-minute assessment, the tool asks producers about six key areas of practice:
soil health, biodiversity, livestock, infrastructure, alternative power, and transportation
. Farms can track their responses from year to year to benchmark and build on their improvements.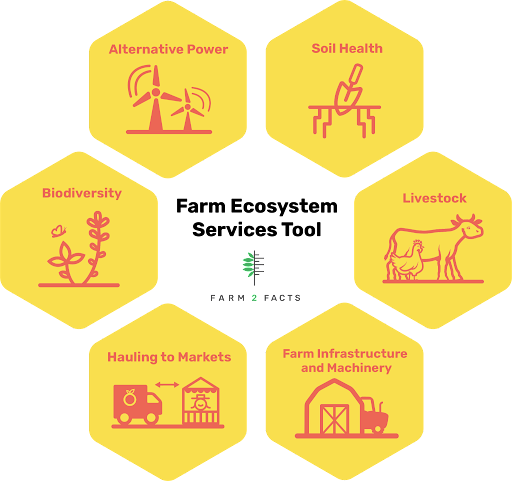 By using the Farm 2 Facts Ecosystem Services tool, you'll be able to collect, analyze, and report data and get support from a collaborative network of community-based researchers at the University of Wisconsin-Madison. We are here to help you share your good work with stakeholders and customers.
Thank you to all the hardworking producers for the myriad ways your agricultural operations are benefiting natural ecosystems. We are thrilled to help you communicate these vital impacts. Whether you're a producer, market manager, or someone else, for more information on how to get started and our full list of metrics, visit
our Data Collection Toolkit
webpage.